Get to the bottom of your cellulite with QWO
Most women will have cellulite in their lifetime – 8 to 9 out of 10 women, in fact. Although cellulite can affect both men and women, it is much more common in women. Unfortunately, it's just a natural part of women's biology. And while exercise and healthy eating habits are great for your overall wellness, unfortunately, those healthy habits won't do much to reduce your stubborn cellulite. The great news is, we do have a solution! At Pacific Center Plastic Surgery and BioSpa® in Newport Beach, we are fully committed to helping our patients look and feel their best. That's why we are now offering QWO, the first injectable treatment of its kind for moderate to severe cellulite. When coupled with our non-invasive skin tightening treatments, even stubborn cellulite can be markedly diminished or corrected.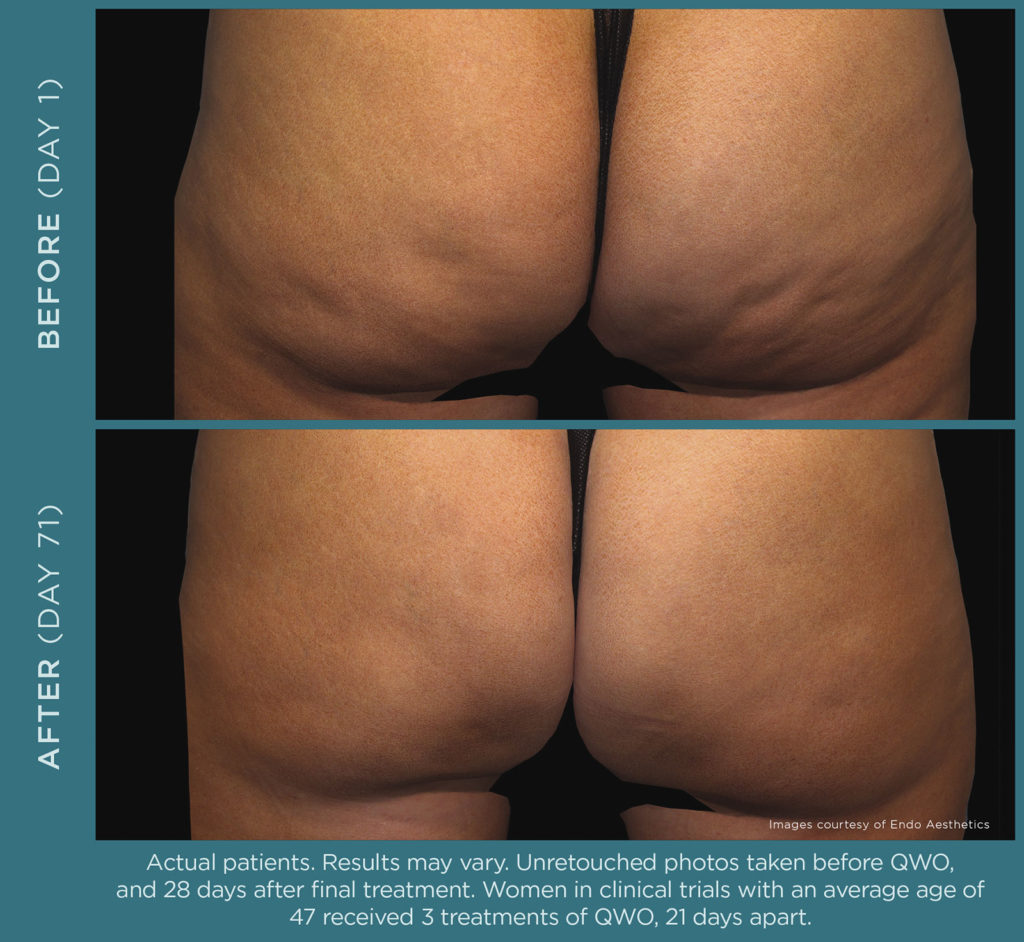 QWO® Basics

Why patients Choose QWO
QWO® is here to help you "ditch the dimples" to boost your confidence. Patients choose QWO® when they experience a dimpling appearance under their skin known as cellulite. In sunny Southern California where swimsuit season is almost year round, cellulite can be more noticeable and visible. Although cellulite is completely natural, its appearance can cause self-consciousness and affect our quality of life.
Fortunately, QWO® is a non-surgical treatment clinically proven to reduce moderate to severe cellulite. It's the first and only FDA-approved injectable used to treat cellulite in the buttocks of adult women. This area is one of the most common areas for cellulite to occur and the results of this treatment can be life-changing.
How QWO® Works
The presence of cellulite can be attributed to poor connective tissue pulling down on the skin, causing a lumpy appearance. Factors that may influence the appearance of cellulite include:
QWO® is made from enzymes called collagenases enzymes and it works to treat cellulite at its source by dissolving underlying tight collagen bands causing dimpling of the skin. The enzymes are thought to target the structural causes under the skin where cellulite starts, to release the fibrous bands, redistribute fat cells, and stimulate the growth of new non-deforming collagen. The result is diminished cellulite dimples and a smoother appearance to the skin.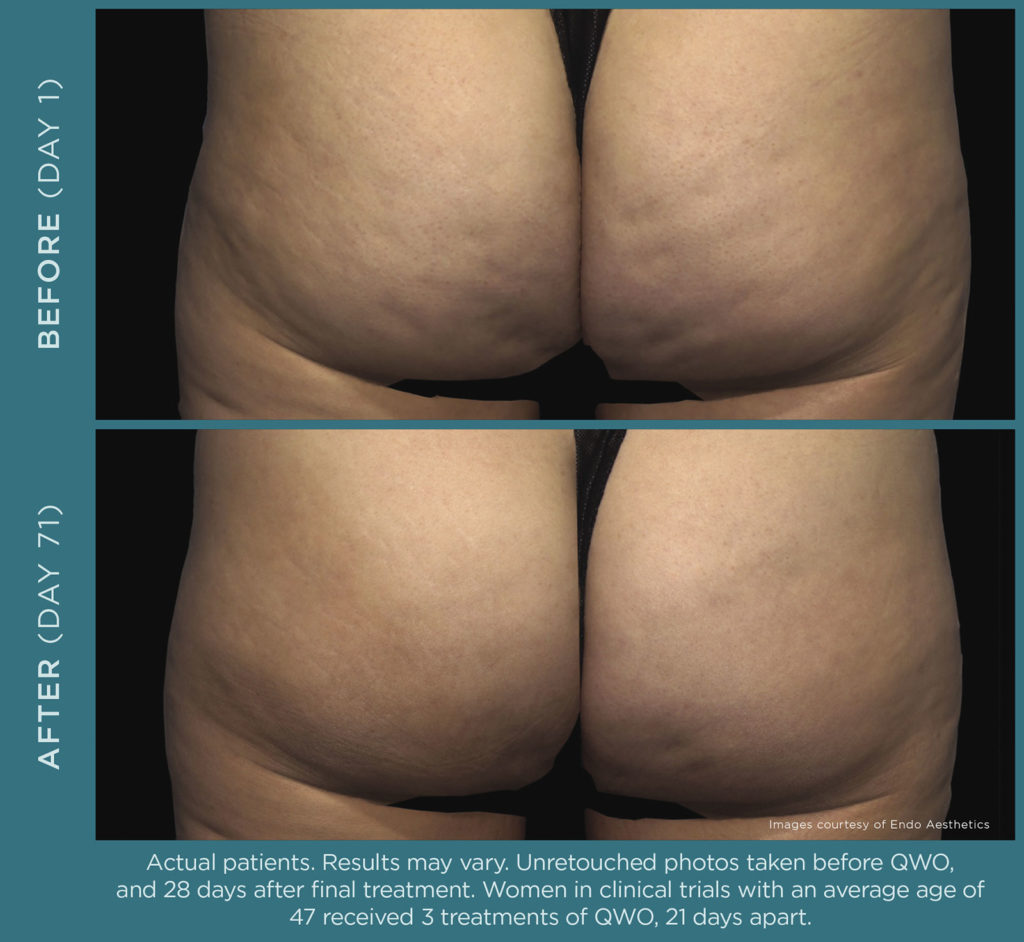 Your QWO® Treatment in Newport Beach
QWO® is administered as a series of 3 injection treatments spaced 3 weeks apart. The QWO® treatment takes place at our private Orange County office and is performed by our trained, qualified and licensed team using protocols approved by our Plastic Surgeon Medical Directors. Most treatments require only about ten minutes but more time is allowed to mark and photograph the area before the treatment. An extremely fine needle is used for the injection and there is almost no discomfort during the treatment.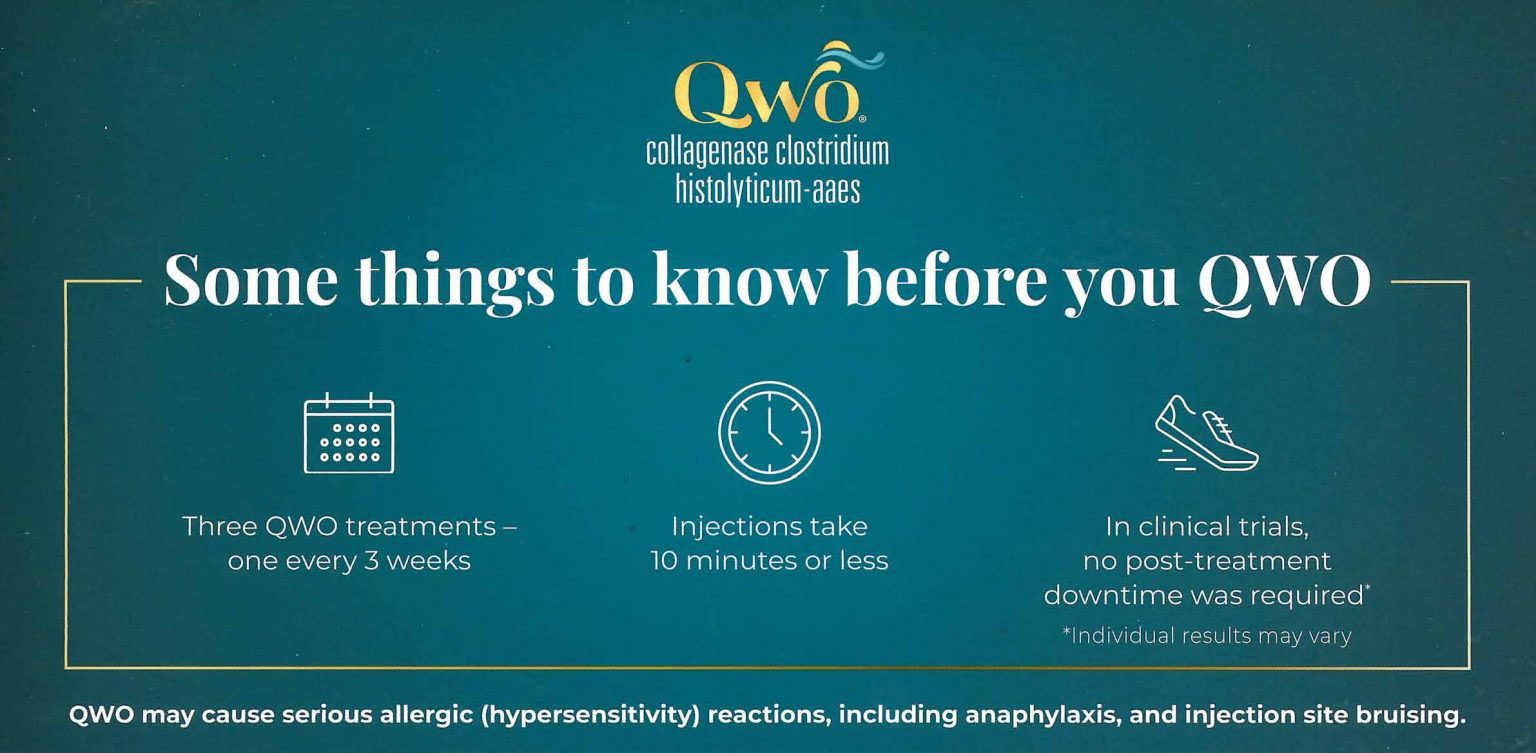 Other Things to Know About QWO
QWO® is minimally invasive, allowing patients to leave our office after the treatment and go about their day without downtime. In the days following your treatment, injection site bruising is to be expected, which generally resolves within about 2 weeks. The majority of our Newport Beach QWO® patients do experience bruising so you will not want to schedule injections close to events that you may want to wear something revealing like a swimsuit. As you return for your second and third treatments, bruising may lessen with each treatment.
At Pacific Center Plastic Surgery and BioSpa® we strive to deliver the best QWO® Newport Beach has to offer and we offer a wide range of body contouring procedures and other solutions for cellulite that work together with QWO®. VelaShape and ThermiSmooth are examples of non-surgical procedures for treating 'problem areas' that cause women to feel unhappy about their body image. A combination of technologies through a customized treatment plan is often the best solution for fat removal, skin tightening, cellulite reduction, and body contouring. The most effective treatment plan to address your specific concerns can be discussed during your consultation.
WHAT COULD YOUR "AFTER" LOOK LIKE?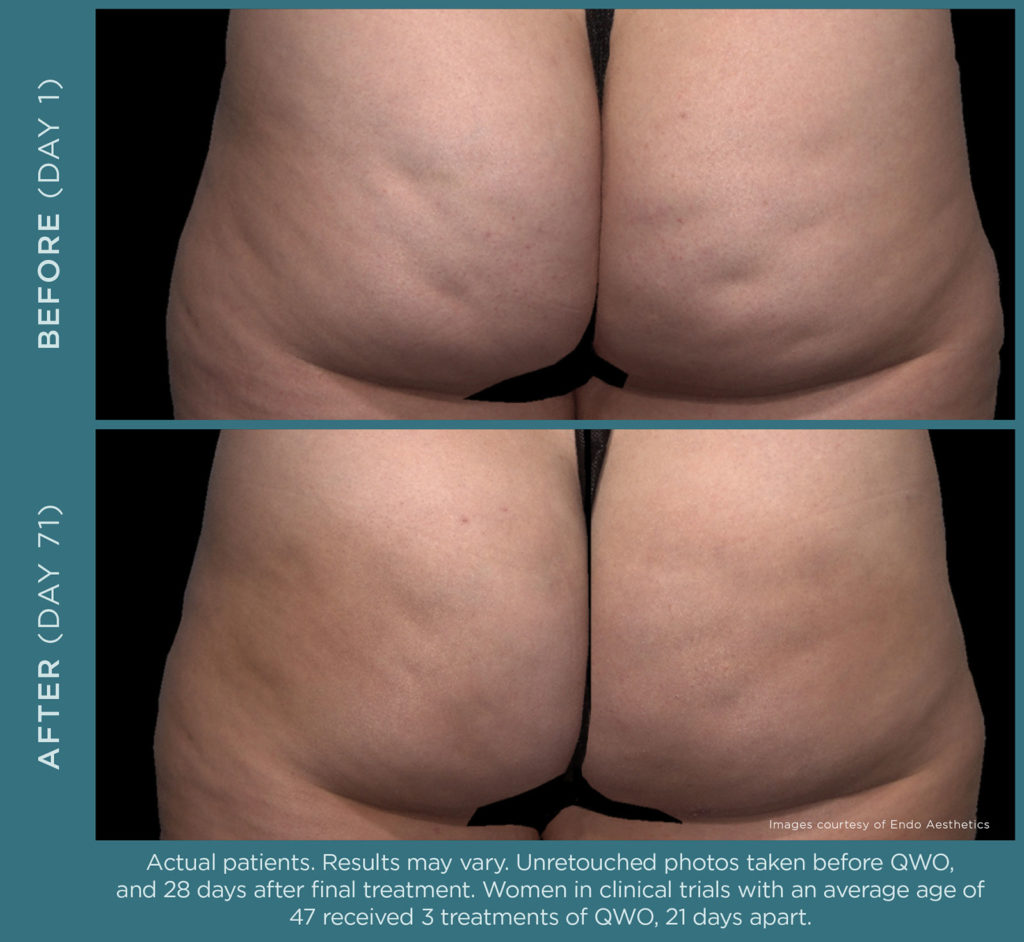 QWO® Cellulite Treatment
Imagine wearing a bikini or lingerie with confidence and doing away with cellulite creams and other gimmicks that just don't work. If you're ready to make your bottom a top priority, contact our Newport Beach office to find out if QWO® is right for you. Request a complimentary consultation and our friendly staff will help you pencil in some "me time."
QWO® FAQs
What is QWO?
QWO® is the first and only FDA-approved injectable for the treatment of moderate to severe cellulite in the buttocks of adult women.
Is QWO® a surgical procedure?
No. QWO® is a non-surgical injectable treatment option.
How do I know if QWO® is right for me?
Schedule a consultation at our Newport Beach office and our experienced and qualified medical team will determine if you are an appropriate candidate for QWO.
How many QWO® treatments will I need?
Each treatment visit may include up to two treatment areas. QWO® injections will be given three weeks apart for a total of three treatment visits.
Are there any side effects of QWO®?
The most common side effects of QWO® include: injection site bruising, pain, areas of hardness, itching, redness, discoloration, swelling and warmth in the treatment area.
Who is not a candidate for QWO?
Do not receive QWO® if you: are allergic to collagenase or to any of the ingredients in QWO, or have an active infection at the treatment area.
Additionally, before receiving QWO, it's important to let us know:
If you have a bleeding problem.
If you are pregnant or may become pregnant, nursing or plan to nurse.
About all the medicines you take, including prescription and over-the counter medicines, vitamins and herbal supplements.
QWO® may cause serious side effects, including:
Allergic (hypersensitivity) reactions, including anaphylaxis. Call your healthcare provider right away if you have hives, trouble breathing, low blood pressure, swollen face, chest pain, dizziness or fainting after receiving QWO;
Injection site bruising
After reviewing your medical history and completing a comprehensive evaluation during a consultation in our office, we will determine if you are or are not a candidate for QWO.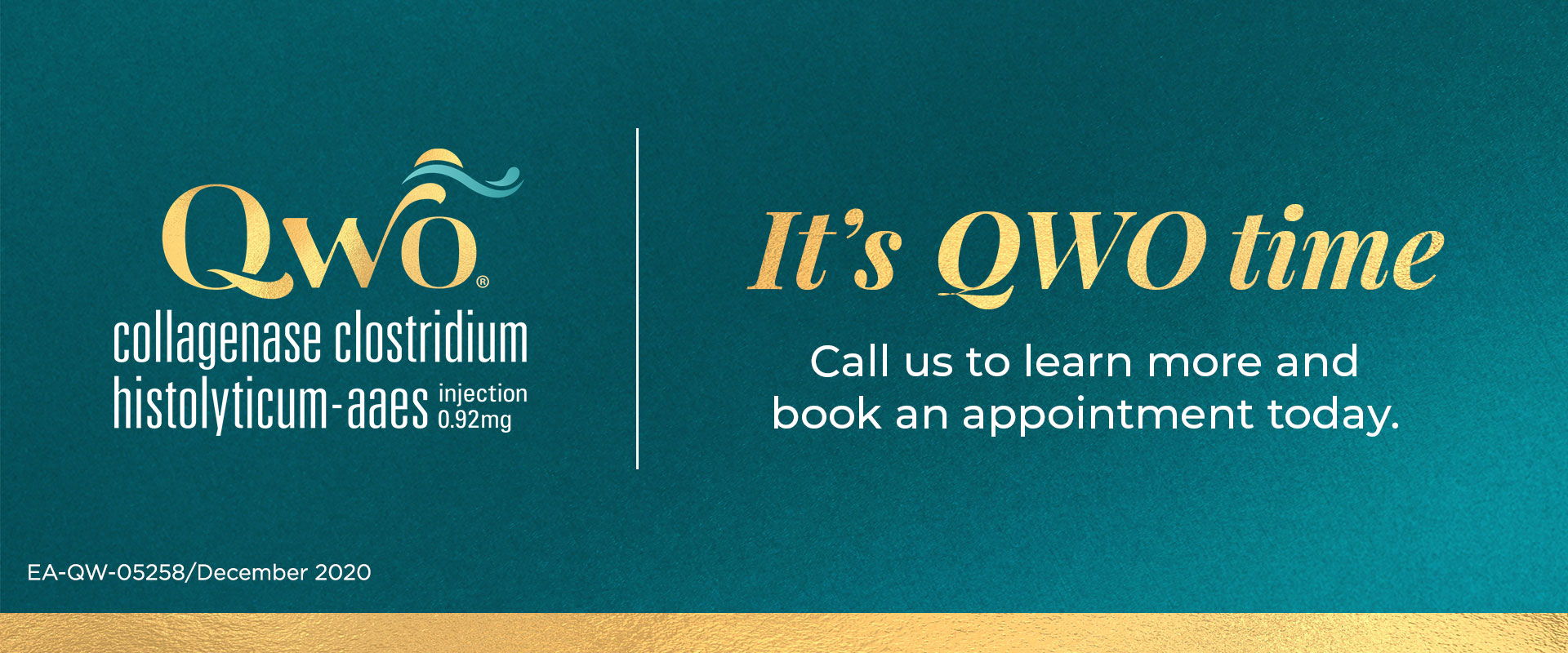 Pacific Center Plastic Surgery and BioSpa® are proud to be Orange County's top choices for full-service aesthetics, where patients receive first-class care with proven results from experts they trust.
Schedule Your Appointment