Are you tired of heavy, tired-looking eyes? Board-certified Orange County plastic surgeons Dr. Jed Horowitz and Dr. Larry Nichter at BioSpa® in Newport Beach may prescribe once-daily Upneeq. It's the first and only FDA-approved eye lifting drops to treat low-lying eyelids!
A prescription ophthalmic solution, Upneeq opens the eyes of patients with acquired blepharoptosis, or upper eyelid ptosis.
Blepharoptosis refers to droopy or heavy eyelids. Ptotic eyelids can be present from birth or they can occur later in life. These prescription eye drops are designed to treat acquired blepharoptosis, allowing the eyes to appear more open and alert.
Aging
Genetics
Eye surgery
Eyelid drooping after Botox injections
Underlying medical conditions that affect the eye muscles or nerves
Acquired blepharoptosis is a problem worth treating.
For individuals with heavy upper eyelids, blepharoptosis often leads to functional and cosmetic issues. Aesthetic concerns typically include looking tired or angry due to low-lying eyelids. Eyelid ptosis can also obscure vision, making everyday tasks such as driving, reading, and walking challenging. The good news is that blepharoptosis is treatable. If you have acquired blepharoptosis, Dr. Nichter and Dr. Horowitz offer Upneeq prescription eye solution to their Newport Beach patients.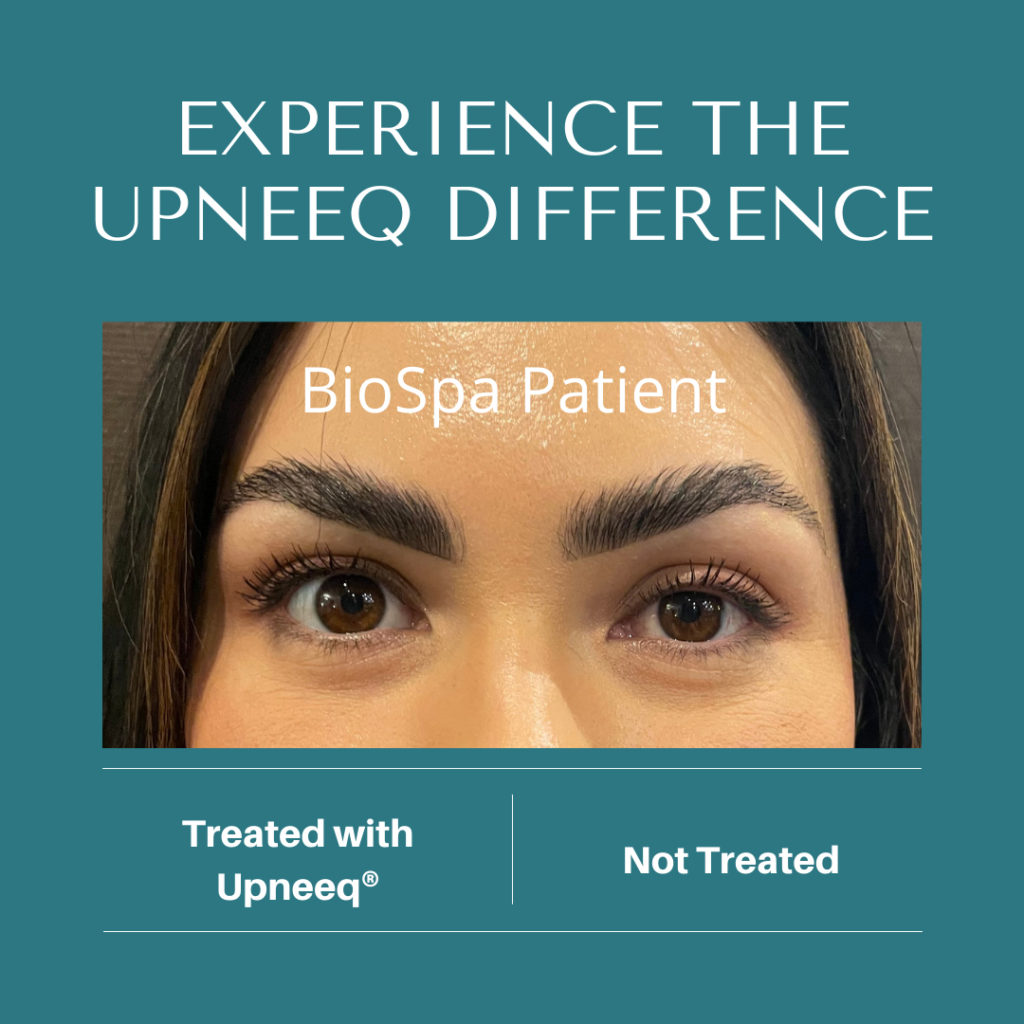 The specialized formula contains .1 percent oxymetazoline hydrochloride (oxymetazoline HCL), an ingredient that causes the Mueller's muscle to contract, raising the eyelid. As the muscle contracts, the eyes take on a more open, rejuvenated appearance.
There are several potential benefits for patients with acquired eyelid ptosis.
Brightening and whitening eyes – These FDA-approved eye drops contain a higher concentration of the active ingredient in the popular eye-whitening solution, Visine.
Giving small, narrow eyes a more open appearance – Upneeq drops trigger a muscle contraction to temporarily lift the upper eyelid, allowing small eyes to appear larger and more alert.
Helping eyes appear more youthful and well-rested – The solution temporarily lifts and awakens tired, heavy eyelids for a fresh, rejuvenated appearance.
Improving obstructed vision – If heavy eyelids obscure your vision, applying Upneeq drops can make it easier to see.
Prescription-strength oxymetazoline hydrochloride eye solution is only approved for patients ages 13 and older. Dr. Nichter and Dr. Horowitz may prescribe this solution for the following concerns related to acquired blepharoptosis:
A tired appearance
Small, narrow, or squinted eyes
Obstructed vision
You should not use Upneeq if you:
Are under the age of 13
Are pregnant or breastfeeding
Have certain medical conditions
Have an infection in or around the eye
Are allergic to the product or its ingredients
If you have medical ailments such as untreated narrow-angle glaucoma, blood pressure disorders, herpetic keratitis (a type of viral infection that affects the eye), Sjögren's syndrome, or other health conditions, let your doctor know. They can either monitor your usage or, in some cases, may advise against using this formula.
Schedule Your Consultation
During your consultation, the BioSpa® team will review your medical history and examine your eyelids. They will also discuss your goals and expectations for treatment. If they determine you are a good candidate, they will develop a personalized treatment plan to ensure the best possible results.
Upneeq is a convenient and temporary daily solution. A more dramatic and permanent remedy for ptosis is blepharoplasty. Blepharoplasty is a cosmetic surgical procedure offered by premier Newport Beach eye lift surgeons at Pacific Center for Plastic Surgery (PCPS).
Upneeq is a sterile, preservative-free eye drop that is self-administered. It is easy to apply and only takes a few seconds.
To apply:
Wash your hands with soap and water.
If you wear contacts, remove them before application.
Cut open the foil wrapper and remove the vial.
Do not touch the tip of the applicator.
Apply one drop directly to each eye once per day.
Discard the vial.
Wait 15 minutes before putting contact lenses back in.
Just one drop in each eye opens the eyes for a bright, alert appearance! Oxymetazoline hydrochloride takes approximately 15 minutes to two hours to start working. The eye-opening effects last about six hours on average.
While you won't achieve the same dramatic result as eyelid surgery, most patients notice an average of 1 mm of lifting after applying this formula. While that may seem small, this is enough to yield a notable improvement for most patients.
Some people may notice a burning or tingle for the first few minutes, but that is normal.
Improved visual acuity and looking more awake can improve your life in countless ways. If you are ready to treat acquired blepharoptosis, schedule your consultation at BioSpa® in Newport Beach. Call (949) 732-3888 today to get started!
The distinct formula has been rigorously safety-tested. To earn FDA approval, two clinical trials followed more than 300 patients with acquired blepharoptosis for six weeks. Users of this product showed high rates of efficacy with minimal adverse risks.
Side effects are generally mild. The most common reported side effects are redness, stinging, dry eye, tearing, and headache. Blurred vision has also been reported in a small number of users.
It is not recommended for pregnant or breastfeeding women.
Do not wear contact lenses while applying prescription-strength oxymetazoline hydrochloride as it may damage certain lenses. Patients should wait for 15 minutes following eyedrop application to reinsert contact lenses.
Some patients notice their eyelids lifting in as little as 15 minutes. The maximum effect is usually seen within two hours and typically lasts up to six hours.
Yes, Upneeq is a prescription medication.
Upneeq oxymetazoline HCL eyedrops are approved for daily use.
Results typically last up to six hours.