The iGrow® hair growth system is FDA cleared for men and women with hair loss. At the BioSpa Newport Beach we recommend iGrow as part of our hair restoration protocol. When used in combination with our PRP hair restoration treatment, patients obtain improved results.
About iGrow
iGrow is a hands free helmet which uses low-level light therapy (LLLT) to treat thinning or hair or balding in both men and women. It is clinically proven and is safe to use in the privacy of your own home. It even comes with headphone so you can listen to music while you use the helmet.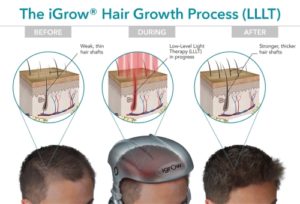 The LLLT stimulates cellular activity within the hair follicle to promote the growth of thick, full, healthy looking hair. The device produces no heat, so you don't have to worry about burning or injuring the skin. There have been medical studies performed which support the use of LLLT for hair growth. To learn more click here.
The initial recommended treatment time is 4 to 6 months. After that, continue sessions once or twice per week to maintain your hair quality. Our doctors or nurses may alter the above recommendation when using it in combination with our Platelet-Rich-Plasma (PRP) hair loss treatment. Learn more about PRP Hair Loss by clicking here.
You can purchase or rent the iGrow® system from the BioSpa in Newport Beach.
For more information, please contact our office 949-347-5656