Sculptra® injectable filler is unique compared to other fillers on the market in that it gradually replaces lost collagen below the skin's surface. Through a series of treatments, collagen growth subtly reduces signs of aging by restoring lost facial volume. Unlike the dermal fillers, the results may last up to two years or longer. Sculptra treatments restore a natural fullness to the face by creating natural collagen that will age with you.
What is Sculptra®?
Sculpture Aesthetic is an injectable filler made of a synthetic material called poly-L-lactic acid, which works to replace lost collagen. Poly-L-lactic acid is safe — absorbed naturally by the body — and has been used for years in dissolvable stitches. The affects can last up to two years or longer. Most patients require 2-3 Sculptra® treatments, scheduled 6-8 weeks apart to achieve maximum long-term results.
It is not uncommon for patients to have a dermal filler injected at the same time as Sculptra®. A dermal filler will provide immediate improvement while the patient waits for the Sculptra® treatments to gradually take effect as collagen develops under the skin's surface. We call this approach "layering." This method can be discussed in greater detail during your evaluation.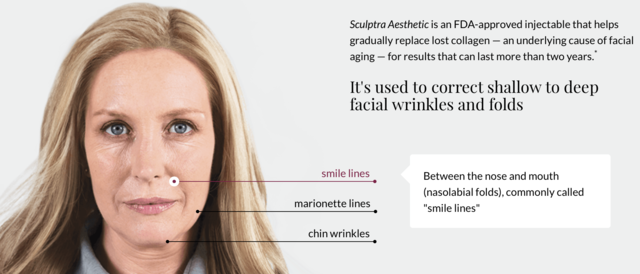 What areas can be treated with Sculptra®?
Sculptra Aesthetic replaces lost collagen in the mid to lower face and chin area.
Deep folds between the nose and the mouth (nasolabial folds) also called "smile lines"
The lines framing your mouth (marionette lines)
Chin wrinkles
Wrinkles and lines
Sunken checks
Indentations (in the temple region)
Hollows under the eyes
What to expect during your Sculptra® treatment®?
One of our nurse injectors or plastic surgeons will meet with you prior to treatment to discuss your concerns and goals, as well as evaluate your face to determine if Sculptra® is your best option. A numbing cream may be applied to the area/s being treated to reduce discomfort.
Using a small needle, Sculptra is injected under the skin's surface where there is visible volume loss. Your injector may need to massage the area after the treatment is completed. Total treatment time will vary depending on the numbers of areas being injected. A typical appointment usually lasts between 20-30 minutes.
 Excellent consultation, staff are very educated about the fillers and helped me decide on the best filler for my desired results. The results were very beautiful and I couldn't be happier.
What to expect after your Sculptra® treatment?
You will NOT notice immediate results following your treatment. Sculpture® generates the growth of new collagen, which will continue to develop over time increasing volume under the skin's surface. Results will become noticeable over the course of a few months. The number of total treatments will depend on your goals and the recommendation of your injector. After treatment, you may experience redness, tenderness, minor swelling or bruising; these signs will subside within a few hours to a few days.
How long does Sculptra® last?
Sculptra® has been clinically proven to last up to 2 years and longer in some cases with optimal number of treatments. Patient results will vary.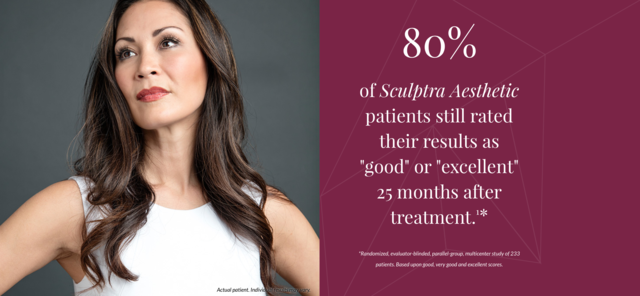 Sculptra® rewards program – ASPIRE by Galderma®
Sculptura® is part of the Galderma family of products which includes Dysport, Restylane, Restylane Silk, and Restylane Lyft. Earn points with each eligible purchase, which can be redeemed for dollar off coupons. You will also be notified of special offers, rebates, and other discounts offered through the Aspire Rewards program. There is no fee to sign up and Galderma is currently offering an instant $20 coupon upon registration to be used at your next treatment (please note this offer can change at any time).
Please be sure to notify us at your next appointment that you are an Aspire member.
Feel and look younger again. Find out more by contacting us at (949) 347-5656.