Achieve the best skin of your life in just 3 steps with HydraFacial MD®
BioSpa's licensed and well-trained medical aestheticians use the HydraFacial treatment to thoroughly care for your skin by providing cleansing, exfoliation, extraction, and hydration all through HydraFacial's Vortex-Fusion® process that delivers antioxidants, peptides, and hyaluronic acid to the skin. The HydraFacial is ideal for women and men of all ages and skin types. It delivers instant results with absolutely no discomfort or downtime. Patients love that the procedure is soothing, moisturizing, non-irritating, and immediately effective.
In conjunction with the HydraFacial treatment, nutrient-rich super serums are used to specifically target skin problems such as sun damage, blackheads, acne, enlarged pores, brown spots, uneven skin tones, and early stages of developing lines/wrinkles. HydraFacial is not just a temporary quick fix treatment, rather it improves the overall health of your skin, resulting in a radiant glow.
The Basics
Why Patients choose HydraFacial MD®
Individuals of any age and skin type who wish address fine lines and wrinkles, skin elasticity and firmness, uneven tone and vibrancy, skin texture, brown spots, oily and congested skin, or enlarged pores are good candidates for the HydraFacial. This treatment is proven effective and requires no downtime, which makes it an ideal option for busy individuals.
How it Works
The HydraFacial treatments has three main steps, including:
Cleanse & Peel
The HydraFacial treatment begins by gently exfoliating and resurfacing your skin.
Extract & Hydrate
After uncovering a new layer of skin, the HydraFacial treatment will gently suck away dirt and debris from your pores and replace it with nourishing moisturizers.
Fuse & Protect
The final step of your HydraFacial treatment is to give your skin additional nutrients, antioxidants, and peptides to give it a fresh, healthy glow!
HydraFacial Specialty Serums
Specialty serums can also be included in your HydraFacial treatment to address your individual skin needs. These serums include:
Derma Builder™
An age-refining serum that helps smooth the appearance of lines and wrinkles while improving the skin's elasticity.  It also provides hydration usually lacking in skin that is beginning to show signs of aging. The Derma Builder™ take-home product can be purchased to further improve the overall appearance of the skin.
CTGF™
Uses naturally derived growth factors to minimize lines and wrinkles while improving the skin's vitality bringing it closer to its youthful state. Growth Factors are natural proteins responsible for the skin's healing process. Growth Factors help to minimize the appearance of fine lines, strengthen skin, and keep skin nourished.
Britenol®
Gently nourishes the skin while improving the appearance of dark spots and sun spots. The Britenol® Intensive Spot Corrector can be purchased to take home and use to maintain the results from your HydraFacial treatment.
Beautiful facility and excellent staff. I am very happy with my treatments as well as the skin care products I purchased.
Your Customized HydraFacial Treatment
The HydraFacial is a highly-customizable treatment, so you can be confident your specific skincare needs will be addressed. Patients can choose from a 30-minute express or 60-minute HydraFacial which can be tailored with specialized boosters.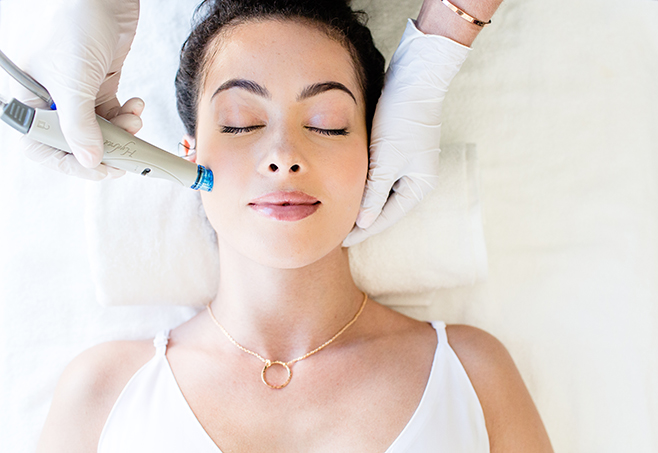 Post-Treatment Tips
Avoid sunbathing for at least 48 hours and wear sunscreen outside.
Postpone waxing in the treatment area for 24 hours.
Avoid hot environments (shower, sauna etc.) for 48 hours.
Do not partake in extensive exercise for 48 hours.
Avoid makeup until the next morning.
Your HydraFacial Results
There is no downtime required after a HydraFacial treatment. Most people see visible skin improvement after just one HydraFacial treatment. Smooth results and hydration can last from 5-7 days, or even longer. One treatment per month is recommended for best results, and continued HydraFacial treatments are highly recommended to maintain healthy, beautiful skin.
Further Treatment Options
Other treatment options that can be combined along with the HydraFacial treatment include medical facials, chemical peels, microneedling, Vivace RF microneedling, dermaplaning, microdermabrasion, Botox, and fillers.
Facials / Peels Card
Download the Facials / Peel Card here.
Your Consultation at BioSpa
A consultation with our professional team is the first step towards achieving a healthy, radiant complexion.  If you are interested in the HydraFacial, schedule your consultation at BioSpa® today by calling (949) 732-3888.
Frequently Asked Questions
Schedule Your Appointment