Fat Removal and Body Shaping For Men
Is your workout not working out? Research shows stubborn stomach and love handle fat can be resistant to diet and exercise, so no matter how many crunches you do and how healthy you eat, you may never get the result you want.
Instead of doing endless sit-ups, sit back and relax at the BioSpa in Newport Beach while our painless UltraShape® treatment eliminates unwanted fat with zero downtime.
UltraShape® is an FDA-approved non-invasive fat removal and body shaping treatment for the body. UltraShape is a virtually pain-free system, which effectively targets and destroys stubborn unwanted fat. The BioSpa FOR MEN is the first to offer UltraShape® in Newport Beach, Orange County, CA.
What is UltraShape®?
UltraShape® is a non-surgical treatment option that instantly and selectively breaks down fat cells in the targeted area/s, as well as tightens the skin. The targeted fat cells are released through the body's natural metabolic processes.
The treatment requires no needles, incisions or anesthesia. There is minimal discomfort during the treatment and no bruising, swelling or downtime afterwards.
UltraShape® is a "walk-in, walk-out" 45 minute procedure, which is frequently used on men who want to reduce stubborn fat in the abdomen, love handles, or thighs without the downtime required with liposuction surgery.
How does UltraShape® work?
UltraShape® uses ultrasound to target and reduce unwanted localized fat deposits, reduces body circumference and contours the body for improved shape. The new V3 system uses integrated vacuum-assisted radio frequency to improve fat cell destruction, speed up fat clearance from the body, and tighten skin in the treated area/s.
Who is a candidate?
UltraShape® fat removal and body shaping system is designed to help average to overweight men. It is ideal for men who want a non-surgical treatment option for fat reduction, skin tightening, and body shaping.
There is a growing demand in Orange County, Newport Beach for an alternative to the surgical procedure liposuction. Most men don't want to waste time off from work for an elective cosmetic surgery, so UltraShape® is a great option for an easy "walk-in, walk-out" procedure requiring no recovery time. Individuals must be able to carve time out of their schedule to commit to coming to the BioSpa for treatments one time per week for up to six weeks.
What areas of the body can be treated?
UltraShape® has been clinically proven to improve the abdomen, thighs ("saddle bags"), and flanks ("love handles"). Other stubborn areas may be able to treated such as inner thighs, arms, back fat and chest fat.
It is important to understand the skinny on stubborn stomach fat – There are two main types of fat in your body: visceral (fat that forms around your organs) and subcutaneous (fat that forms under the surface of your skin).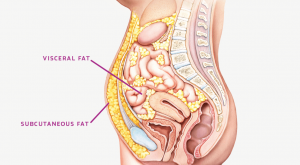 While eating right and working out can help reduce visceral fat, subcutaneous fat can be difficult to lose. UltraShape targets and eliminates stubborn subcutaneous belly fat that does not go away with diet and exercise. If we determine you have visceral fat, we will advise you to begin or make improvements to your diet and exercise regimen. Neither UltraShape® or liposuction can treat visceral fat.
BioSpa was my first medical spa experience and I have to say that it was a great one! I was referred by a friend to go to this medical spa because she has always been raving about the great experience and results. The staff is very polite and helpful, answering any questions I had.
How many treatments are needed?
Clinical results show patients see an average of a 4cm reduction in circumference after three treatments. A three treatment program is recommended for most men, but will vary depending on the desired result.
How long does it take to see the results and is it permanent?
After the UltraShape® procedure, the broken-down fat cells are naturally cleared by the body over a 2-4 week period. Circumference and fat reduction is usually seen within the first 14 – 28 days post treatment. Maximum results are seen about 28 days post the final treatment (three to six treatments usually recommended). Many Orange County BioSpa patients report seeing a difference shortly after their first treatment, however this varies from patient to patient.
Just like liposuction, fat cells removed from the body is permanent, however remaining fat cells in the treated area can expand with weight gain. It is important to maintain your weight through a healthy diet and exercise.
As of August 1, 2015 UltraShape® has a 96% worth it rating on Real Self. Visit the Real Self website.
To learn more about UtraShape®, please visit their website for comprehensive information and data.
Find out if this treatment is right for you and contact the BioSpa at (949) 347-5656 to schedule your consultation.