We all know women everywhere have been using countless hair removal options to keep themselves looking well kept. Popular hair removal treatments include everything from shaving, waxing, depilatories, and laser hair removal. Women have dominated the hair removal market for decades, but social trends are shifting towards men taking an interest in "manscaping." This social shift is making it more acceptable for men to ditch the hair from their face, back, chest, arms, and legs. A recent hair removal forum claims a London clinic reported the number of men undergoing laser hair removal rose by a staggering 86 percent between 2012 and 2013. With statistical reporting showing an increase in the number of men seeking cosmetic treatments, there is also an increase in marketing/advertising efforts towards the male demographic, which means a greater awareness about what is available to improve their appearance.
At the BioSpa® in Newport Beach male laser hair removal isn't being requested by just any one male demographic. They report treating straight men, gay men, businessmen, dads, athletes, and more. The typical age of their male patients range between 21-50. Almost all of their clients comment that the idea of shaving or waxing large areas (chest, back, arms, legs) on a regular basis was just too much upkeep, so laser hair removal was the best long term solution for them.
When you think about it, laser hair removal is pretty straightforward. Laser technicians use hyper-focused laser light energy to target the hair shaft, effectively killing the root. Laser hair removal doesn't damage the follicle – where new hair grows – but it makes regrowth very difficult. The entire process can require 8-12 treatments, spaced 5-8 weeks apart for maximum efficiency. Most patients experience little to no pain and can resume normal activity immediately. The BioSpa® uses the GentleMax® Pro laser hair removal, which is one of the most technologically advanced systems available today. It works on all skin types, all skin colors, and requires fewer treatments compared to most other devices. It also takes less time per treatment, which means less discomfort. After a successful series of treatments is completed, patients may only need periodic touch-ups. Additionally, men with dark skin and/or coarse hair almost always complain about annoying ingrown hairs and razor burn. Using GentleMax Pro on the face and neck prevents these annoying breakouts.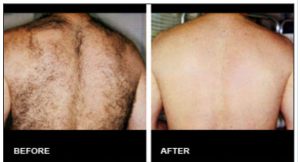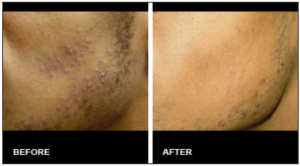 With a commitment to having a series of laser hair removal treatments, men will no longer have to spend their money on razors, shaving cream or waxing. And, they will save time not having to shave or go in for ongoing waxing treatments.
In Southern California having a lot of hair on the body is often times something that gets in the way of men feeling attractive or confident. As a result, it has become more common to see men at the beach who are fully manscaped. In this part of the country it is acceptable for men to invest in cosmetic treatments to improve their appearance and improve self-confidence. This region is very health and beauty conscious, so it is no surprise to see men jumping on board to have cosmetic treatments to enhance themselves.