At-Home Vaginal Rejuvenation Options at BioSpa
vFit™ PLUS
What is vFit™ PLUS?
vFit PLUS is the first and only at-home vaginal rejuvenation treatment. Women can now treat themselves from the comfort of their home and receive professional results. The vFit PLUS device uses red-light energy, gently heat, and vibration to tone the vaginal walls and improve laxity. The vFit PLUS is a professional model, allowing more settings when it comes to power and duration.
Who is a Candidate for vFit™?
Candidates for vFit PLUS are those who experience vaginal laxity with age, after pregnancy and childbirth, or other factors. Vaginal laxity can lead to a number of related complaints such as decreased sexual pleasure, stress and urge incontinence, and dryness and irritation. vFit plus can tighten the vaginal walls to decrease these symptoms, resulting in improved feminine wellness and confidence.
How Do I Use vFit™ PLUS?
vFit PLUS is quick and easy to use. Before beginning your treatment, make sure your device has been charging for at least 12 hours. You can then apply the photonic gel provided to you to the device, making the insertion as comfortable as possible. When you are ready, simply turn the vFit power button on and choose the mode and duration you'd like. You can then relax as vFit delivers gentle heat and vibration to the vaginal walls.
vFit works best with regular use. It is recommended to use your device for several minutes every other day, working up to the full 12 minutes. Using the device every other day for several months has shown a significant improvement in vaginal laxity. After this time, patients can use their device once or twice a week for maintenance.
What Can I Expect After Treatment?
After each treatment with vFit PLUS at BioSpa, there are no side effects or downtime and patients can resume all regular activities. Patients can begin to notice the benefits of vFit after several weeks of use with the most improvement after 60 days of regular use. During this time, collagen fiber growth is stimulated to result in stronger, tighter vaginal tissue. This results in improved laxity, sexual pleasure, stress incontinence, dryness, and more. Women feel an overall sense of rejuvenation and restored confidence.
Apex® In-Control At Home Pelvic Floor Stimulator
Patients experiencing stress incontinence may be advised to purchase the Apex® device following their non-invasive Geneveve vaginal rejuvenation treatment to further improve results.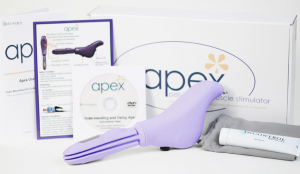 If you are suffering from leaking when you sneeze, laugh, or cough this is a result of weakening pelvic floor muscles typically due to childbirth, but can also be a result of aging. Leaking can be exacerbated with high impact exercising such as aerobics and running. Unfortunately, this can lead to women avoiding physical activity or turning to panty liners for protection "just in case."
Apex® is a patented, FDA-cleared, take home device that addresses the root cause of bladder leakage: weak pelvic floor muscles. Using Apex in the privacy of your own home for just 10 minutes a day for approximately 14 weeks will strengthen pelvic floor muscles eliminating embarrassing leaks and eliminating your stress urinary incontinence.
If you're interested in learning more about the device and how you can get started, contact our office today! The vFit PLUS and Apex are medical devices, so a consultation is required to ensure you are a good candidate.