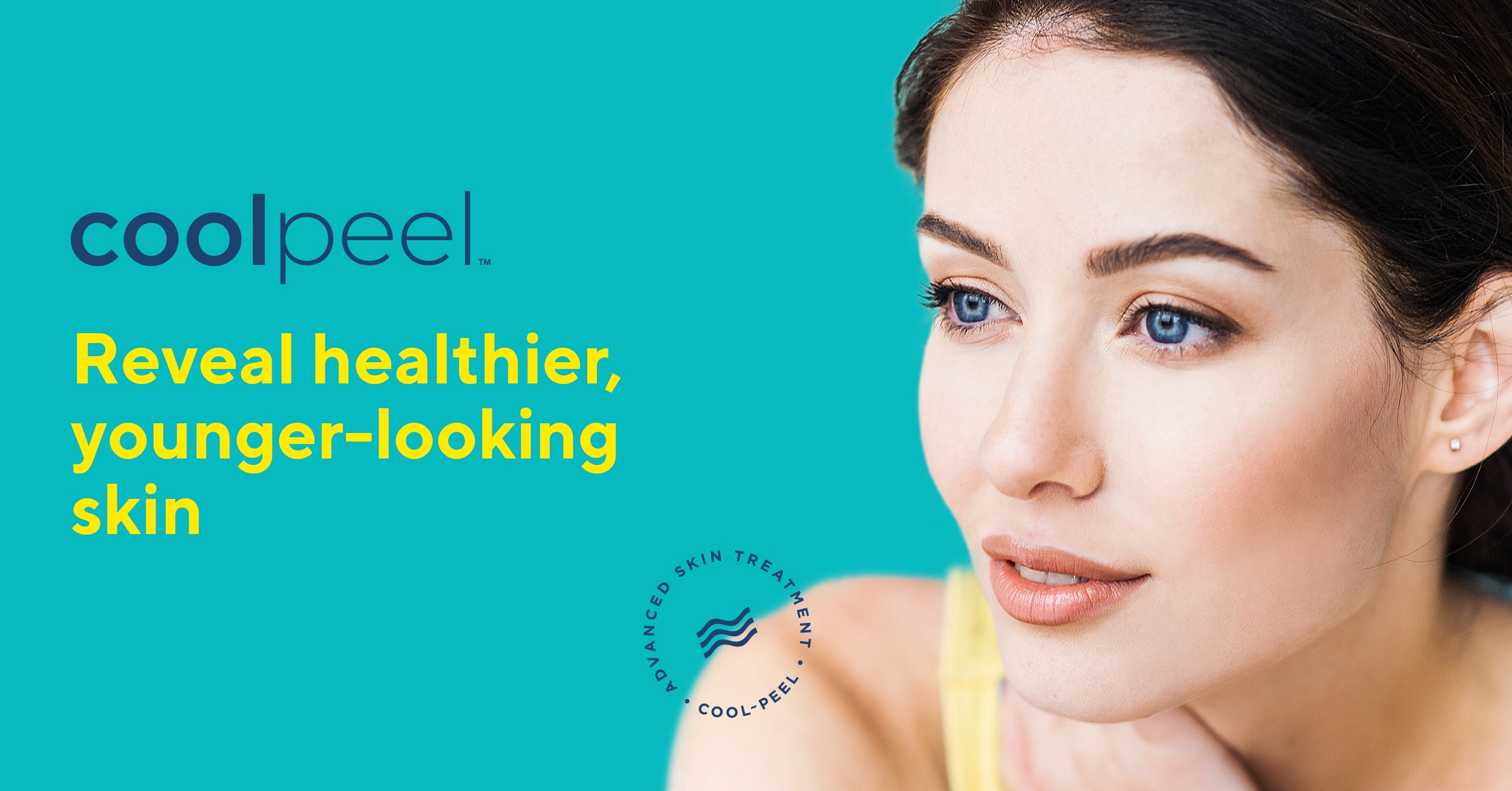 At a certain point in your skincare journey, the question of whether to get a laser treatment inevitably comes up. When considering a laser treatment, you may be presented with the following options: a stronger ablative treatment for harder to address concerns or a non-ablative treatment with less downtime. The difference is that ablative treatments remove the top layer of skin while nonablative lasers heat the underlying tissues without touching the surface.
Fortunately, a new CO2 laser treatment called CoolPeel is making the choice a little easier. This treatment delivers the best of both worlds. It allows us to deliver smooth, even skin without the huge undertaking of other ablative lasers. It's the most advanced CO2 laser resurfacing and we are proud to offer it at BioSpa® in Newport Beach.
What is CO2 Laser Resurfacing?
Co2 Laser resurfacing has been around for over 50 years, but the technology significantly advanced in the 1980s when a pair of dermatologists discovered they could target the lasers to specific areas of the skin. Advances continue today with CO2 laser resurfacing or fractionated CO2, allowing ultra pulse or light beams to be delivered in a continuous controlled pattern to undo years of skin damage. CoolPeel is an innovative way to safely, and comfortably, deliver the benefits of a traditional CO2 resurfacing treatment. This Co2 laser resurfacing targets only the superficial layer of skin tissue, damaged skin is removed, revealing younger and healthier looking skin.
The BioSpa® team strives to deliver the best co2 laser resurfacing newport beach has to offer and is ready to inform you about your options for CO2 laser resurfacing and how it can work to address your specific needs and revitalize your skin.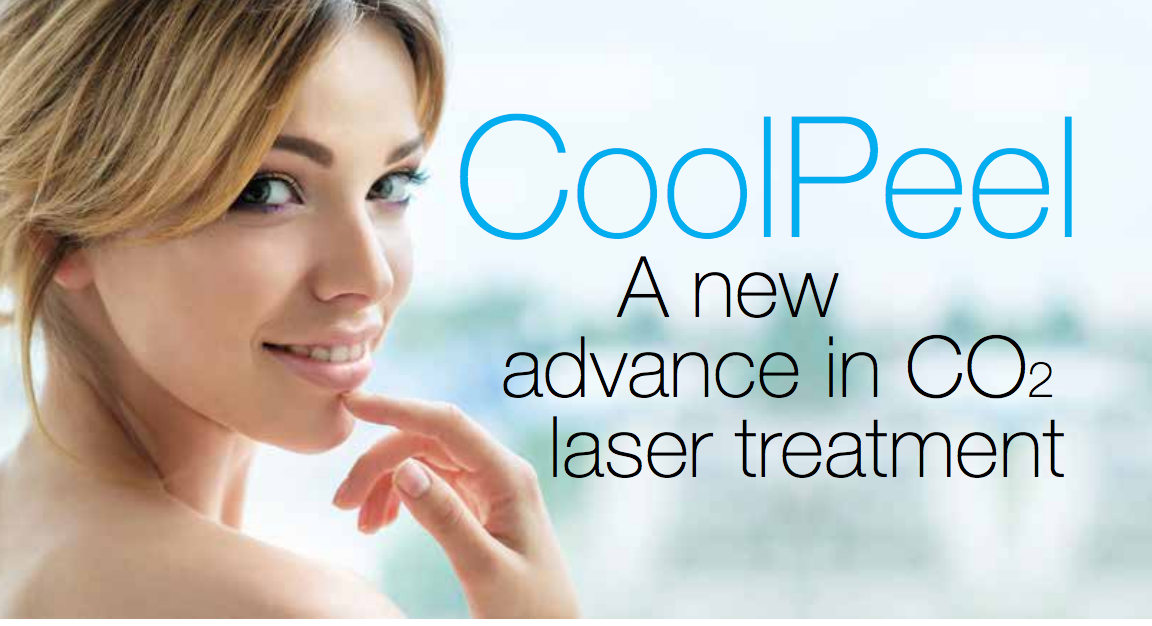 How do I know if the CO2 Laser Resurfacing is right for me?
If you are ready to say goodbye to your blemishes and acne scars of the past or if you are looking to reduce facial wrinkles, sun damage or minimize the appearance of your pores, CO2 laser resurfacing may be an ideal option for you. The BioSpa® team in Newport Beach is ready to inform you about your options for CO2 laser resurfacing and how it can work to address your specific needs and revitalize your skin. Once we review your medical history and complete a skin assessment, we will help determine if this is the best laser skin solution for your skin irregularities.
To undergo a CO2 laser resurfacing it is vital to:
Be in overall good health
Be positive and realistic about the expected results
Be a nonsmoker or able to stop smoking two weeks prior to treatment and refrain from smoking for two to four weeks after treatment to help with healing
The benefits of CO2 laser resurfacing can help improve the following skin concerns:
Uneven skin tone or brown spots
Sun-damaged and rough skin texture
Sagging Skin
Acne Scars
Fine lines and wrinkles

Appearance of large pores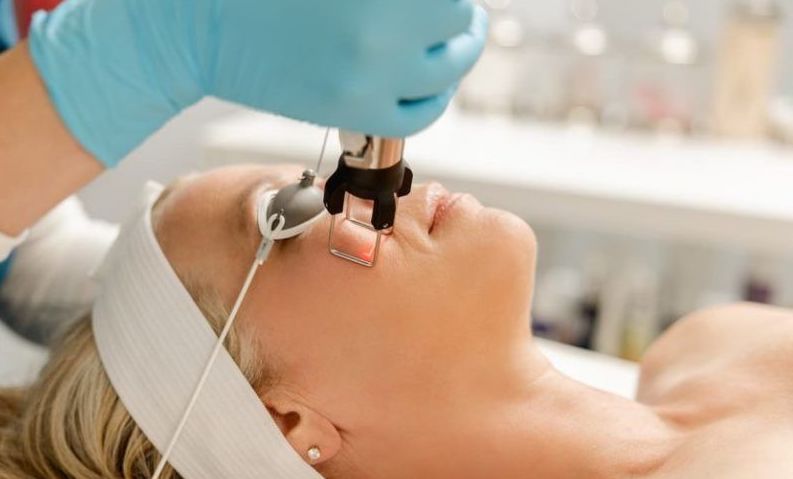 Am I a Good Candidate for CO2 Laser Resurfacing?
Skin type is an important factor when considering whether or not you are a good candidate for any co2 laser skin resurfacing procedure. During a skin assessment at our newport beach medical spa, our team will determine what is called your "Fitzpatrick" and discuss your skin goals with you. Based on this, we will advise if a CO2 laser resurfacing is the best option. Our team is highly trained, experienced, and skilled in the proper use of co2 laser treatments. With our expertise, you can expect a safe procedure and excellent results.
CO2 Laser Resurfacing Procedure
Pre-care is typically needed before a CO2 laser resurfacing to prep your skin. Pre-care products and the time needed for pre-care will be discussed during your skin assessment prior to treatment. Some recommendations may include waiting two weeks after getting Botox or Filler injections, or avoiding the use of Retinoid products for a week prior to your treatment. It's important to follow the pre-care and post-care instructions carefully to receive optimal results.
On the day of treatment, you will come to our office and your appointment will begin with numbing of the treatment area. This will help ensure you are as comfortable as possible during the procedure. Once numbing is complete, your eyes will be covered and the laser will target your problem areas. The co2 laser resurfacing energy will vaporize damaged skin cells on the top layer of your skin and stimulate collagen production to reveal glowing, radiant skin after recovery.
CO2 Laser Resurfacing Recovery
After your CO2 laser resurfacing, your skin may be red and feel warm. It can feel similar to having a sunburn. You will be provided with a specific post-treatment plan on how to care for your skin, such as how to clean the treated area and when to apply products that aid with healing. For example, your skin may feel dry and scaly as it heals so it is important to keep the skin hydrated.
Again, it is very important to follow the after-care plan to promote healing and to achieve the best result possible. In the past, complete recovery from a CO2 laser could take 10 to 21 days. Now, with the new CoolPeel treatment, downtime has been significantly reduced. Factors that affect your downtime include how large the treated area is, the depth of your treatment and if your CO2 laser is combined with other procedures. Your provider will be able to give you the most accurate time frame and prepare you on what to expect based on your individualized treatment plan.  
CO2 Laser Resurfacing Results
In the days and weeks following treatment, your skin will peel and reveal fresh layers underneath. Once your skin heals, you can begin wearing oil-free makeup to cover up any remaining redness. It's very important to wear sunscreen and avoid sun exposure to protect your newly healed skin as well. CO2 laser resurfacing results are long-lasting, revealing a more refreshed and younger-looking appearance. Your skin will look healthier, youthful and more even toned for years to come!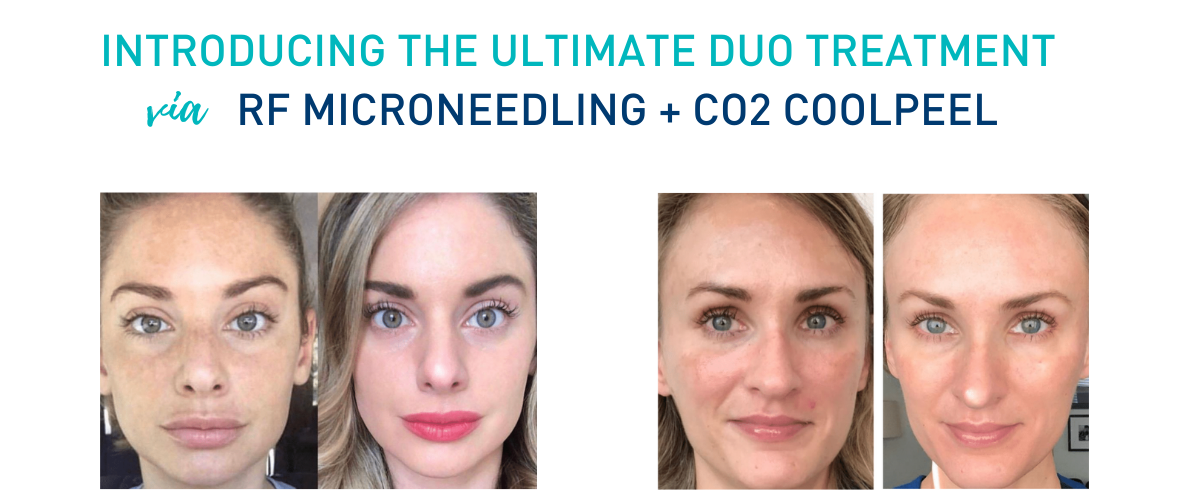 Combination Treatment
A CoolPeel treatment is even better when combined with RF Microneedling. The "Ultimate Duo" is an advanced treatment that provides unparalleled results. The deep, collagen stimulating benefits of RF Microneedling plus the impressive superficial results of the CoolPeel treatment equals the ultimate equation for beautiful skin. If a combination treatment like the Ultimate Duo is right for you, our team will let you know upon completing your skin assessment.
Schedule Your CO2 Laser Resurfacing Consultation at BioSpa
The experts at BioSpa® want you to be educated and informed about your laser skin resurfacing options. Your skin is unique, and we understand you may have specific goals you want to meet to improve your overall look. Our highly qualified and trained team is here to guide you through the process of laser skin rejuvenation treatments. We welcome your questions and look forward to the opportunity to help you achieve your best skin yet. Call BioSpa® in Newport Beach to schedule your consultation today!
CO2 Laser Resurfacing FAQs
Are there any side effects from CO2 laser resurfacing?
If you are prone to cold sores or herpes outbreaks around the mouth, be sure to tell your provider. Laser resurfacing treatments can trigger herpes outbreaks for those who are already at risk. Your medical team at BioSpa® can prescribe an antiviral medication before your treatment to prevent any outbreaks, so it's essential for them to know your medical history.
How much do CO2 laser resurfacing treatments cost?
Each Newport Beach co2 laser resurfacing patient will have a treatment plan based on the goals for treatment and target areas. During your consultation with the BioSpa® team, a quote will be provided after your skin assessment. Financing options are available as well to make treatments more affordable. Be sure to ask about financing your treatment so you don't have to wait to look and feel great!
Does my insurance cover CO2 laser resurfacing?
CO2 laser treatments are considered cosmetic treatments and are typically not covered by insurance. You may always call your insurance provider to check further about your coverage. You may also want to consider financing your treatment. Financing can cover a portion of your treatment or your entire procedure depending on your individual needs.
Are there risks with CO2 laser resurfacing?
There is always some risk with any cosmetic procedure, but complications are rare when performed at a licensed facility with trained, qualified providers. Some risks include scarring, infection, and changes in skin pigmentation.
What is CoolPeel?
CoolPeel is a brand new way to safely, and comfortably deliver the benefits of a traditional CO2 resurfacing treatment. By targeting just the superficial layer of skin tissue, damaged skin is removed revealing younger and healthier looking skin. BioSpa® is one of the first offices in Newport Beach to offer the innovative treatment to patients.
What makes CoolPeel Different?
CO2 laser resurfacing is the gold standard in treating wrinkles, age spots, acne scars, and other blemishes as well as for tightening skin and balancing tone. Damaged skin tissue is removed, or ablated, stimulating new collagen production and heat energy is delivered to tighten the skin. It sounds great, but CO2 treatments are often accompanied by considerable downtime and risk while damaged skin heals. Many advances have been made to improve the side effects of CO2 treatments but ONLY the CoolPeel can deliver a fractional ablative treatment without the downtime. With CoolPeel, we can precisely control the output to deliver high energy in extremely short-pulses resulting in impressive superficial, skin resurfacing results without the lingering heat that would traditionally damage the surrounding skin. The lack of unnecessary heat is why we call it cool – get it? As a result, there is minimal risk of hyperpigmentation, demarcation, or induced infection.
How Long Does A CoolPeel Take?
A full-face CoolPeel laser treatment can take anywhere from 5-15 minutes to complete. At BioSpa® in Newport Beach, we include time in your appointment for numbing, and for proper post-care instruction. While the treatment itself is very quick, it's important to take the time to ensure you feel comfortable throughout the treatment and after you leave our office.
What Areas Can A CoolPeel Treat?
While the face, neck and decollete are the most common areas treated, we are not limited to those areas. Other popular treatment areas include the hands, back and shoulders.
When Can I Return To My Skincare Routine?
After your CoolPeel treatment, it is important to keep your skin hydrated and there may be certain products you should avoid. Talk to your provider about the best post-treatment care and when you can return to your daily skincare regimen. 
Schedule Your Appointment