As one of the first practices in Southern California to offer miraDry®, BioSpa® continues to be the preferred area provider and expert on the innovative underarm sweat & odor reduction treatment. We've performed hundreds of treatments and have experts ready to help answer any questions you might have.
Stop Sweat In Its Tracks with miraDry
Nobody wants to deal with excessive sweating. Not only does it cause embarrassing sweat stains, but it can also bring about an unpleasant odor, which can affect your confidence, relationships, and even career. If deodorants and extra strength antiperspirants don't provide the result you need, miraDry® may be the answer. BioSpa® offers miraDry® to patients in Newport Beach who are struggling with embarrassing underarm sweat and odor. In fact, we are the Number One miraDry® provider in Orange County.
What is miraDry?
miraDry® is a revolutionary, non–surgical treatment for reducing underarm sweat, odor, and even hair growth. The miraDry® device gently heats and destroys the underarm sweat glands, resulting in reduced sweating in as little as one, hour-long treatment. The treatment is FDA-cleared and proven in safety, effectiveness, and patient satisfaction.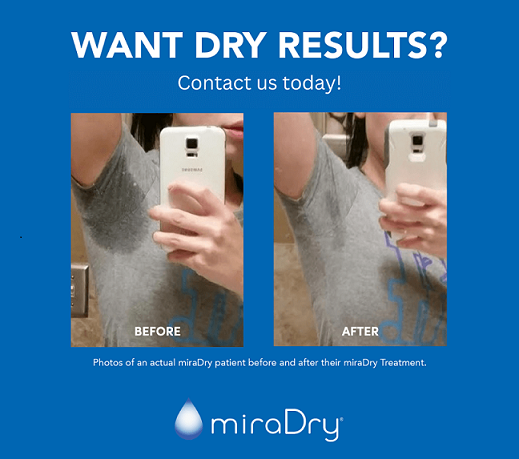 What are the benefits of miraDry?
miraDry® is more than just a treatment, it is a lifestyle choice that can benefit you for years to come. There are many benefits associated with this treatment option, all of which can positively impact your life. No more sweat stains on clothing. Men can stop buying dozens of white undershirts every year, and ladies can wear silk again. You can keep your gym clothes longer because they won't be ruined by odor you can't get rid of. Clothes can be re-worn without laundering after each wear. In many cases, there will be no need to buy deodorant again! And, we can't forget the most important benefit – feel confident in any situation you encounter.
Stop Excessive Sweating
With miraDry® in Newport Beach, you can feel clean and dry all day long. Results are seen after just one treatment, with significant improvement after two treatments for most patients. miraDry®'s patented, FDA-cleared formula works to create long-term results by eliminating sweat glands in the underarm.
Prevent Body Odor
Embarrassing body odor can negatively impact your personal and business relationships. When sweat glands are removed with miraDry®, not only is sweat eliminated but so is the underarm odor that comes with it. You can go about life with confidence and keep your clothes smelling fresh for longer.
Treat Hyperhidrosis
Hyperhidrosis is the medical term for excessive sweating. This medical condition can make everyday activities uncomfortable, and cause unhappiness among sufferers. Until now, there has never been a non-surgical solution for hyperhidrosis that truly works, and with long-lasting results. miraDry® can help those with hyperhidrosis by eliminating both sweat and odor glands for effective results.
Constantly dealing with excess sweat is no way to live. If you're ready to take charge and get rid of your underarm sweat and odor issues for good, then contact BioSpa® medical spa in Newport Beach today to get started! 
Why Patients Choose miraDry®
Individuals who suffer from hyperhidrosis or excessive sweating in their underarm area can often benefit from miraDry®. Imagine living life being clean, confident, and carefree knowing that those troubles are behind you. Picture being able to put on whatever outfit you like and not worry about embarrassing sweat stains or antiperspirant marks. These dreams can become a reality with miraDry® treatments. Plus, because miraDry® is nonsurgical and requires little to no downtime, it is an extremely popular treatment option for those with busy or active lifestyles.
How it Works
miraDry® uses electromagnetic energy, which is proven to be the ideal method for treating the sweat and odor glands in the underarm. The innovative technology utilized in the treatment permanently eliminates glands in the underarm area. The glands are safely destroyed, using targeted heat.
Your body has an abundance of sweat glands, so there is no need to worry about getting rid of the ones in your underarm. Your body has plenty more and will not have any problem regulating its temperature after treatment. The miraDry® system continuously cools your skin during treatment for added comfort and safety. miraDry® can be used on nearly any man or woman regardless of skin color or type.
miraDry® is the best cure for hyperhidrosis because it is:
Safe
Non-invasive
Has minimal to no downtime
Has permanent results
Your Customized miraDry® Treatment
Our miraDry® Newport Beach specialist meets with each patient prior to the treatment to go over the procedure and answer any questions. Next, lidocaine injections are administered to numb the underarm area prior to treatment. The underarms are then marked with what looks like a temporary tattoo in the form of a grid. The device settings will be customized to you and you can expect little to no pain while our skilled technician performs the procedure. In a study performed by miraDry®, patients on average rated their pain as a 2 on a scale of 1 out of 10 (1 being no pain, 10 being the worst pain). The treatment takes about one hour.
Post-Treatment Tips
Most

regular activities can be resumed right away.

Exercise and vigorous activity can be resumed within several days.
Some discomfort may be felt in your armpits for several days after treatment.
"Amazing treatment provided by an amazing staff! I had the MiraDry treatment and was well taken care of throughout the entire visit and even after when I was home they still did their patient follow up to make sure I was ok. I definitely recommend BioSpa® and will personally be back in the future! Thanks again"
It's important to remember that this is a medical procedure. So, there can be swelling, minor bruising, and tenderness of the underarms, which should subside within a couple of weeks. We recommend avoiding strenuous activity requiring use of the arms until symptoms have resolved. Some patients have short-term altered sensation of the underarm skin or upper arms. This will gradually disappear. Again, if any side effects occur, we recommend avoiding strenuous activities requiring use of your arms until they have subsided. Additionally, we always encourage our patients to reach out with any questions or concerns. Our caring and compassionate team is committed to guiding you through the entire treatment process. 
Your miraDry® Results
The vast majority of our Newport Beach miraDry® patients experience minimal downtime and return to their regular activities immediately following treatment. They begin living a life free of sweat and odor, and the feedback we receive about the life-changing results is truly amazing! Check out our Yelp page to read some of the feedback we've received about BioSpa® miraDry® treatments. 
Besides getting rid of sweat and odor, miraDry® can also reduce armpit hair growth. You may have heard of miraSmooth, which is the name used for the treatment when referring to its hair reduction benefit. Coupling miraDry® with laser hair removal treatments can even provide better hair reduction than laser removal treatments on their own!
With multiple benefits, it's no wonder that miraDry® continues to be one of our most popular treatments in Newport Beach. We have been helping patients with hyperhidrosis, excessive sweat, and excessive odor by providing this life-changing treatment since 2015.
miraDry® Card
Download the miraDry® Card here.
Your Consultation at BioSpa
Your first step towards sweat and odor elimination with miraDry® is a consultation at BioSpa. Virtual and in-person consultations are available. During your complimentary consultation, we will discuss your medical history, as well as your underarm sweat elimination goals. Then, we will create an individualized treatment plan to help you achieve your goals so you can live more and sweat less!
Frequently Asked Questions