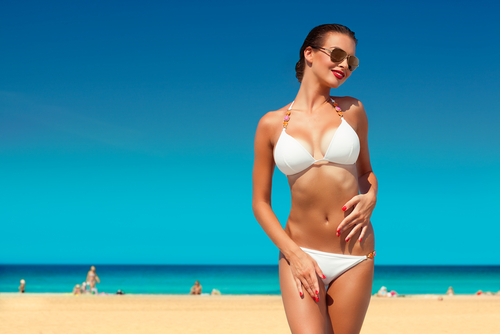 Summer comes up quick, so if you aren't ready or don't have time to prepare for a surgical contouring procedure, you might opt for a less invasive one! There are many effective treatment options on the market that offer body contouring with no surgery and minimal to no downtime necessary. Feel confident showing your skin this summer with one of these simple procedures.
Vaser Liposuction
If stubborn fat is preventing you from achieving the sculpted body you want for summer, you might consider Vaser liposuction. Vaser liposuction offers a less invasive fat removal technique than traditional liposuction. Instead of using a cannula tool to break up fat, Vaser liposuction uses gentle ultrasound energy. The energy is delivered through a small device, requiring much smaller incisions than traditional liposuction. This also leads to less discomfort and bruising, a much shorter recovery period, and less downtime required!
UltraShape Power
UltraShape Power is a completely pain-free solution to fat removal and body contouring. By delivering ultrasound energy, fat is heated and destroyed without the use of anesthesia, injections, or incisions. You can treat your abdomen, thighs, flanks, back, and arms with UltraShape Power.
Vanquish
Vanquish combines fat reduction and skin tightening to effectively contour the body. Like UltraShape, Vanquish is completely non-invasive and you can get back to your normal routine immediately after treatment. Using radiofrequency waves, Vanquish destroys stubborn fat cells while improving skin laxity.
Velashape III
If you experience mild stubborn fat, lax skin, and bothersome cellulite, you might consider Velashape III. Vellashape combines infrared technology, radiofrequency, tissue manipulation, and massage to improve the most common contour issues as well as promote healthy circulation and skin structure. There is no surgery or required downtime and minimal discomfort involved.
Getting your body ready for summer has never been easier with these non-surgical options. To learn more about your treatment options and to find out which one is best for you, contact our office today for a consultation!