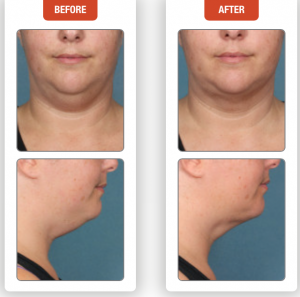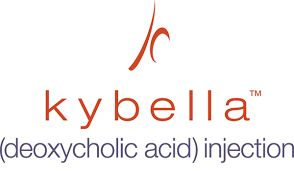 Allergan, the manufacturers of Botox and Juvederm, recently acquired Kythera Biopharmaceuticals, Inc., makers of the first ever non-surgical injection for eliminating neck fat. Allergan has made Kybella available to medical professionals for use in their aesthetic practices, and the BioSpa® in Newport Beach is one of the first in the area to offer this breakthrough injectable.
KYBELLA is the first ever FDA cleared non-surgical injectable for improving the appearance of a double chin caused moderate to severe fullness resulting from fat. KYBELLA is a synthetic formulation of deoxycholic acid, a naturally-occurring molecule in the body that aids in the breakdown and absorption of fat. When the solution is inserted into subcutaneous fat, it destroys fat cells. Once destroyed, those cells can no longer store fat.
Submental fullness (a.k.a. double chin) is a common condition affecting both men and women. Neck fullness or double chin can lead to an older heavier look. Submental fullness can affect individuals of all ages, weight, gender, and ethnicity, and is often resistant to diet and exercise.
The American Society for Dermatologic Surgery performed a survey in 2015 in which 67% of participants stated they were bothered by neck fat.
Prior to Kybella, the only proven solution for removing neck fat was with the surgical procedure liposuction. As with any surgery, some individuals fear incisions, anesthesia and downtime, so opt not to do anything about the are that is bothering them. Kybella is a great alternative for men and women in Newport Beach, Huntington Beach, Laguna Beach, and all of Orange County who want to get rid of their double chin without surgery.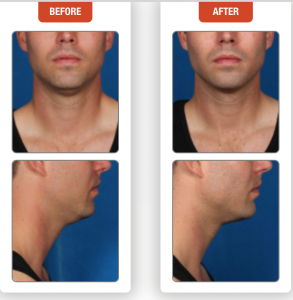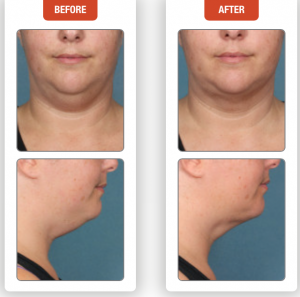 Kybella does require a local anesthetic and more than one session may be needed for optimal results. Mild to moderate bruising may occur after the treatment, however regular daily activities can be resumed immediately.
Kybella is now available at the BioSpa® in Newport Beach. If you are interested in learning more or to find out if you are a candidate, contact us at (949) 732-3888.