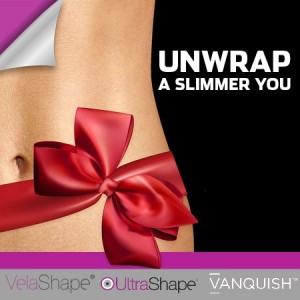 Have you been torturing yourself at the gym or eating nothing but protein and veggies trying to get in shape so you will look good for your holiday parties and events? This year why not give yourself the gift of beauty and unwrap a slimmer you in time to celebrate the holiday season and ring in the New Year looking good and feeling good!
Unwrap a slimmer you with our customized Body by BioSpa® body shaping packages. Treatment requires NO SURGERY & NO DOWNTIME! Considered a "walk-in, walk-out" procedures, so you can get back to your daily activities immediately!
SPECIAL HOLIDAY OFFER:
Receive a complimentary consultation and 10% off your body shaping package. (Offer valid through Dec. 31st. Treatment must be paid for by this date, but does not have to begin or conclude by this date).
We are one of the few medical spas in Southern California offering multiple body shaping devices – the combination of technology allows our plastic surgeons and technicians the ability to target multiple concerns and achieve superior results for our patients. We use UltraShape, VelaShape III and Vanquish in tandem to target the most common body issues: stubborn excess fat pockets, loose skin, poor body shape, and cellulite. The body contouring machines we offer have been proven for over 5 years to provide measurable results and are considered the liposuction alternative for those who want to avoid surgery or are unable to have surgery due to medical issues or other reasons.
Why is the BioSpa® unique in offering multiple body shaping devices?
Body shaping machines require a large investment and enough room to store them. Most med-spas do not have the capital available to make the investment into multiple machines, nor do they have the space to accommodate more than one device. For years the BioSpa® medical spa was located inside the founding doctors' plastic surgery practice, Pacific Center for Plastic Surgery. The med-spa consisted of just 2 treatment rooms. With the undeniable growing demand for non-surgical cosmetic treatments, Drs. Horowitz and Nichter decided to move the BioSpa® into it's own 1,800 square foot space across the hall from their plastic surgery office. Their vision was to create the premier medical spa in Orange County by providing the most comprehensive menu of services to ensure both woman and men in the area could achieve all of their aesthetic goals in one location. Due to the success of their plastic surgery practice over the past 25 years, they were fortunate enough to have the capital to see their vision become reality.
What is the benefit of having different body shaping technology?
Horowitz and Nichter have found by using a combination of body contouring technology vs. just one, yields much better results and happier patients. Unfortunately, there has yet to be a device created which can target all of the common issues; reduce fat, decrease circumference, shape the body, tighten skin and reduce cellulite. Most individuals, especially women, want to improve multiple issues, which cannot be achieved with just one body shaping device. If you treat this type of patient with just one device, they will not be happy with their result or the person who performed it.
Our signature 'Body by BioSpa' package is a customized treatment plan tailored to the needs of each individual patient. The three body shaping devices available are Vanquish, UltraShape, and VelaShape III. Body by BioSpa® packages are determined during the consultation appointment. Factors taken into consideration include: the areas of concern, amount of fat, skin quality, current body shape/proportion, measurements, and the patient's desired result. It will be determined if one or more of the following is needed: fat removal, body contouring, circumference reduction, cellulite reduction or skin tightening. Non-surgical fat removal is usually the driving factor for people seeking treatment at the BioSpa® however after further evaluation it is often necessary to treat others as well to achieve the best result. For example, adding skin tightening to the treatment plan is usually necessary when a person has skin laxity due to age, pregnancy, or fluctuating weight. Men typically have thicker skin and may not require skin tightening as part of their procedure. Body shaping is necessary if the patient mentions wanting more curves, less curves, or more definition. Cellulite reduction is a common problem, however most people don't realize our technology can improve this issue until it is mentioned during the evaluation.
At our Newport Beach med-spa men and women can be treated with non-surgical body treatments for the following areas:
At our Newport Beach med-spa men and women can be treated with non-surgical
body treatments for the following areas:
Upper and lower abdomen
Flanks/love handles
Hips
Inner and outer thighs
Arms
Upper and lower back
The most common issues treated:
Excess fat
Skin laxity
Cellulite
Poor body shape
Regardless of the areas or issues being targeted, a series of treatments will be required to obtain the maximum result possible. A series can range from 3 to 6 sessions spaced 1 week apart or more. A specific treatment plan will be outlined during the consultation. Results can be seen as quickly as two weeks after the first treatment with the final results being achieved approximately 30 days after the final treatment. *Please Note: This can vary patient to patient & will be discussed in further detail at your appointment*
This holiday season give yourself the gift of beauty by unwrapping a slimmer you & enjoy this special offer from us:
Complimentary Consultation & 10% off your Body by BioSpa® package
(Offer valid through Dec. 31st. Treatment must be paid for by this date, but can begin at a later date if necessary)