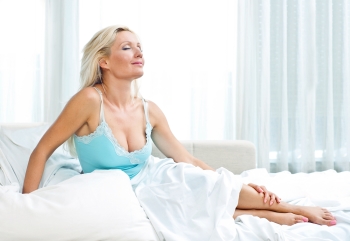 The U.S. Food and Drug Administration (FDA) recently approved Juvéderm Vollure XC for the correction of moderate to severe facial wrinkles and folds for adults over the age of 21. This new filler uses special technology, known as Vycross, to hold the hyaluronic acid together into a cohesive gel, keeping it intact after it is injected into the skin. The mixture of high and low hyaluronic acid creates a more connected gel, creating a firm but natural appearance to the treated areas. This formula not only produces minimal swelling, but lasts longer than other products. In fact, Juvéderm Vollure XC lasts up to 18 months from the initial or touch-up injection – that's one year longer than other fillers on the market, making it a more affordable, long-term treatment option.
longer than other fillers on the market, making it a more affordable, long-term
treatment option.
One of the First
BioSpa® is one of the first medical spas in Newport Beach to offer Vollure XC to our patients. Our team is certified and works with our patients to ensure we're finding the best solutions to any problem areas. Whether it's to treat moderate to severe facial lines and wrinkles, Vollure is a great option for you.
Common Side Effects
In the clinical study, the most common side effects seen were temporary injection site responses such as swelling, tenderness, bruising, firmness lumps or bumps, redness, pain, discoloration, and itching. These side effects generally dissipate within a week.
If you have a history of multiple severe allergies or anaphylaxis, or if you are allergic to lidocaine or the Gram-positive bacterial proteins in Juvéderm Vollure XC, you should not use this product.
More serious, but rare complications include vision abnormalities, blindness, stroke, temporary scabs, or permanent scarring.
Let Us Help You Achieve Your Aesthetic Goals
Injectable treatments provide a way to rejuvenate the skin as a convenient alternative to invasive surgical procedures, removing wrinkles, fine lines, and discolorations. At the BioSpa® our state-of-the-art medical spa in Newport Beach offers a full range of injectables and fillers in a comfortable and private setting that will make you feel your very best.
Learn more about our non-surgical treatments by contacting us at (949) 732-3888.