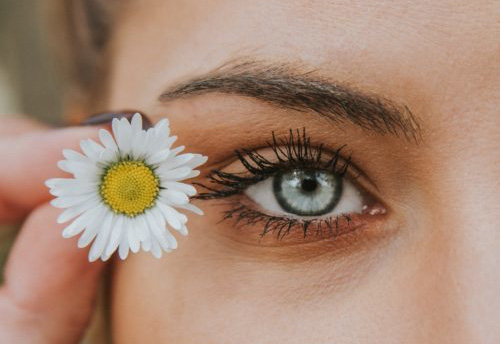 Did you know when looking at one another, the eyes are looked at first and most often? You may simply want to enhance your eyes or maybe you are falling victim to the signs of aging such as extra eyelid skin or bags under the eyes which can age you or make you appear mad, sad, or worn down. Fortunately, there are several non-invasive options to freshen up your eyes so you look bright eyed and bushy tailed.
When consulting with patients regarding concerns in the eye area,  BioSpa's expert aesthetic nurses discuss preventative and corrective measures. BioSpa® has a variety of non-invasive invasive treatments that will improve the eye area or correct aged or tired looking eyes as well as stave of aging changes.
Botox, and more recently Dysport, are popular treatments to reduce the appearance of crows feet (the wrinkles around the outer eyes), frown lines between the eyes and forehead lines. It can also provide a mini brow or eyelid lift. Both neurotoxins reduce muscle movement that causes frowning, squinting and furrowing the brow. Once this movement is restricted, your lines will decrease. When your muscles stop "pulling down" the effect is that of a mini brow lift.
Juvederm and Restylane are hyaluronic acid based fillers used to treat lines and wrinkles as well as plump the face. When placed into the upper cheek and/or "tear trough" it will help to reduce lines and wrinkles as well as "hide" under eye bags. In some instances, it can also decrease shadowing under the eyes that can create the appearance of dark circles. It can also be used to replenish volume in areas that have become hallowed such as the undereye, upper eyelid, and temple.
ThermiSmooth® Face is a non-invasive treatment that uses radiofrequency energy and a temperature-controlled handpiece.  By using small, circular motions, the handpiece will gently roll across the surface of your skin, while heating targeted tissues below your skin.  Patients often say if feels like a warm massage.  If you have problem areas such as sagging eyelids or wrinkles around the eyes, ThermiSmooth Face is an excellent option to consider. There is zero downtime and works on all skin types and tones. A series of treatments are needed to achieve optimal results.
A great no downtime "baby Fraxel®" (fractional laser) treatment for crepey skin under the eyes and can help decrease discoloration. A series of 3 treatments is recommended spaced one month apart.
5) Yag Laser
The Yag can treat unsightly visible veins that may present themselves in the temple area as we age. In most cases, only one session is needed, but occasionally two sessions may be recommended depending on how many vessels are visible in the area. No real downtime, mild recovery.
6) Micro-Blading for Eyebrows
Microblading is the secret to faking fuller eyebrows that look totally natural. It is a hassle-free solution to spending hours penciling in your eyebrows trying to get the perfect shape. Microblading is a skill that should only be trusted to a skilled expert. It requires a technical eye for creating the best shape for each face.
Microblading, unlike tattooing, is not in the deep layer of skin, but more superficial. It is semi-permanent lasting about 12-18 months. As the color fades, you may want a touch-up before then. The hair strokes are more natural and finer than a tattoo.
The treatment can dramatically improve your overall appearance.
If you want to up your lash game, eyelash extensions may be just the thing for you. Whether you want sexy, glamorous, or natural looks, our expert will customize your treatment to meet your goals. Eyelash extensions last weeks and can be worn every day regardless of the activity.
What are eyelash extensions? They are individual, synthetic silk eyelashes that are applied individually to your natural eyelashes with a medical grade adhesive. This means that each of your eyelashes will have one eyelash extension attached. This ensures that your natural lashes are treated properly and remain healthy.
Not ready to invest in lash extensions? Not to worry. We've got Latisse!
Latisse is actually a version of a glaucoma drug in an eyedrop form that was also found to stimulate hair growth. Approved years ago by the FDA, Latisse is a medical grade product available for cosmetic use to transform eyelashes.
Latisse lengthens, thickens and darkens eyelashes. Latisse both extends the growth phase and increases the number of hairs that sprout. Some people are also using Latisse to grow and thicken their eyebrows. Latisse requites continued use to maintain results.
Medical grade topical eye products such as SkinMedica's TNS Eye Repair diminishes the appearance of dark circles and firms the skin around the eye area. Fine lines and wrinkles will reduce due to proper hydration in the skin. SkinMedica's  HA5 Rejuvenating Hydrator works by enhancing the skins ability to retain moisture and heal itself. HA5 contains a blend of 5 different types of hyaluronic acids that help to reverse intrinsic aging changes and creates noticeable change within days. When applied around the eyes (even on the eyelid) you will see firmer, smoother skin.
NeoCutis Lumiere Bio-Restorative Eye Cream targets the delicate eye area to hydrate and reduce signs of aging, puffiness and dark circles.  It is powered with 30% more PSP and other key ingredients including Caffeine, Hyaluronic Acid, and Bisabolol. This powerful blend of energizing, moisturizing and nourishing ingredients provides your eyes with a younger, more refreshed look. Daily use will help alleviate skin puffiness, plump the skin, diminish under eye darkness, soothe and refresh the eyes to improve signs of fatigue.
SkinBetter Science Interfuse Eye Treatment Cream is an award-winning eye recharger that improves the appearance of crow's feet, wrinkles, puffiness, and under-eye darkness. A proprietary delivery technology drives ingredients faster and more efficiently to maximize nourishing benefits.
If you are ready to freshen up your eyes, contact Orange County's award-winning medical spa BioSpa® to schedule your personal consultation or treatment. Phone: 949/732-3888, Email: contact@mybiospa.com